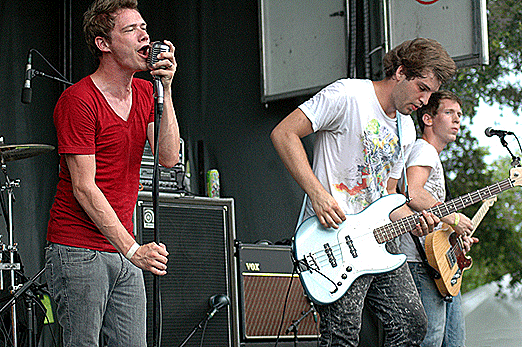 The Band of the Month for October is...
<![if !vml]>
<![endif]>
Another band that I absolutely love.  Punchline just recently released their newest disc, Delightfully Pleased on their own Modern Short Stories record label.  They are a band that is absolutely 100% into the music they make.  The first time I saw them was in December of 2003, opening up for
Catch-22 and Fall Out Boy.  Since then, I've watched them play countless times, and I have never been disappointed.  They are one of those bands that you can listen to anytime, because they can always put you in a good mood.  The latest disc is filled with catchy tunes that remind me of an oldie but goodie by them, Action.  Though the lineup has changed throughout the years, the passion and talent that has come out of Punchline has not.  If you've got a chance to see them, take it, because you will not regret it.
I'll make a few suggestions from Delightfully Pleased, but I fully back all of their albums.
"Seventy"
"21 Forever"
"Whatever I Want, Whenever I Want"
"Keystoned"
And some their past discs…
Play
Action
37 Everywhere
Just Say Yes
Visit the following links to listen, learn and love this band.
MYSPACE: www.myspace.com/punchline
FACEBOOK: http://www.facebook.com/punchlinemusic
TWITTER: www.twitter.com/punchlion
Past bands of the month
July: Gallows
August: Bayside
September: Innerpartysystem
October: Punchline